Root Canal Treatment Should Make You Feel Better, Not Stress You Out
You don't have to experience discomfort and pain in your mouth anymore. Our Columbus dental team at Beechcroft is dedicated to dispelling the myth that root canals are the most painful procedures out there. When you experience an infection in your tooth, you're likely in a lot of pain. At Beechcroft, we'll do our best to provide comfortable treatment and get you back to your smiling self in no time.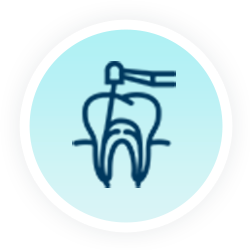 How do you Know you need a Root Canal?
A root canal is one of the most common restorative dental procedures. Even with that, there are still misconceptions surrounding it.
Simply put, a root canal is done in order to rescue a tooth from a serious condition. If a root canal is needed and not performed, the tooth could be destroyed and additional complications can develop.
Root canals are often needed when someone is undergoing:
What can I Expect with a Root Canal?
If you come to Beechcroft's Columbus office for a root canal treatment, our first priority will be to make sure you're relaxed and comfortable. When you and your dental team are ready, we'll begin the procedure.
Our dentist and team will work efficiently and carefully, using state of the art technology. First, the distressed tooth will be cleaned. Then, the pulp in the tooth is uncovered so the infection can be treated. When the infected areas have been removed, medication will be applied so it doesn't redevelop. The now-healthy tooth is then prepared for a permanent crown.