Restorative Dentistry Columbus
Restorative dentistry is generally thought of as cosmetic, such as fixing a chipped tooth, but at Beechcroft, our focus is restoring what's behind your smile. Your health. Your happiness. Your confidence.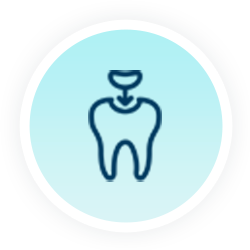 Here To Help You
Beechcroft Dental provides a number of restorative dentistry services covered by Medicaid in Ohio, each performed with state of the art technology. Our caring, professional team treats each individual patient as just that - an individual. They will work with you to discuss your concerns and come up with an appropriate treatment plan.
Restorative dentistry services provided by Beechcroft include:
A dental bridge can help fill the space made by a missing tooth. Made with natural-looking materials, dental bridges can restore your bite and appearance while reducing the risk of stress related damage to the surrounding teeth.
A dental crown is a specially fitted "cap" that can be placed over an existing tooth and which has been made to match the look of your existing teeth. They are used to protect a tooth that has been under duress from decay and damage. With a dental crown you can restore the shape, size, and overall look of your tooth. Get your smile on with a properly fitted crown.
Denture services might be an option when damaged or missing teeth are interrupting your ability to perform everyday activities like eating and having a conversation. Dentures can provide a comfortable way to return your smile and get back into life.
The goal of root canal treatment is to save your tooth. This procedure will clear your tooth of pain and get you back on the path to a healthy mouth.